Asian skincare review! Kose Cosmeport Clear Turn Eye Zone Mask Q10
As promised in my Japanese Sunscreen post, i'm going to be throwing the odd Asian skincare review into SCforM for my international readers – starting with this!
Eye masks are a relatively new product that have taken the Asian skincare world by storm. The concept is simple, take a piece of cloth (soaked in solution) out of the packet and pop it underneath your eyes in order to give your eyes a shot of treatment at the end of a long day.
The Kose Cosmeport Clear Turn Eye Zone Mask Q10 are a drugstore variety of Eye Mask which I picked up here for about £8.
How did they fare? Read on for a review!
Image courtesy of Jamilla who has a full review here!
There isn't much to say about these to be honest, the paper sheet comes soaked in a formula that helps to moisturise the skin underneath your eyes. Take two out of the pack, place them underneath your eyes and after about 10 minutes peel off to to reveal fresher looking eyes.
This isn't going to do anything for your eyes in the long-term but these are fantastic to have around if your eyes feel strained or look dehydrated. The amount of moisture in these helps to plump out dry skin under the eyes which makes them perfect for use after travel (I tend to use them after work). They feel cool and moist (even moreso if you store them in the fridge) and the experience is quite relaxing, you can even have them on while you work/watch tv which is great!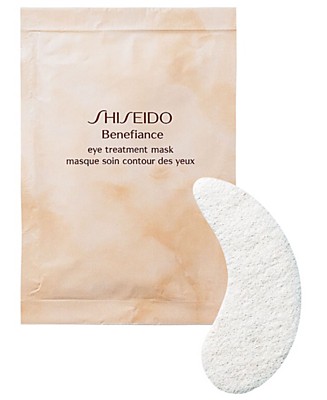 Shiseido Benefiance Eye Masks – a nice (but pricey!) alternative.
Overall I'd say these were good if you need a moisture boost under your eyes or if they generally feel a bit irritated and tired. Other than that, these don't have a massive impact but I'll be reviewing a set from Shiseido soon that look very promising thanks to the inclusion of (among other things) Retinol – so keep your eyes peeled for that!
Sort-of SCforM approved for purchase: nice but not necessary.